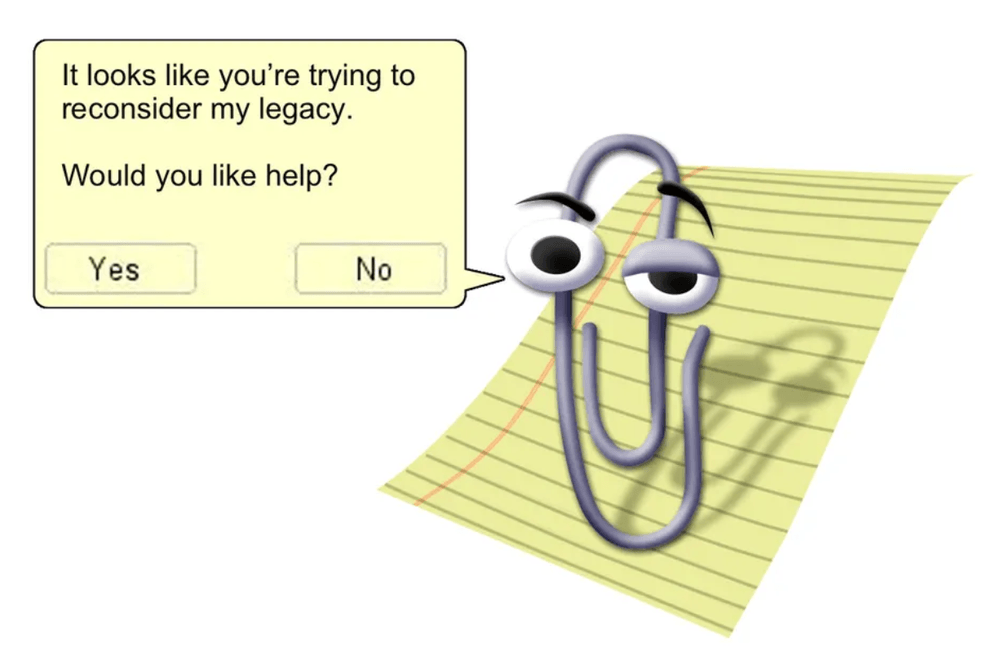 It's always been easy to hate him. The quintessential know-it-all, marking up every misspelling and grammatical misstep with angry red underlines. Ruthless and passive-agressive? Overeager and helpful? There are tens of ways to describe Clippy without using expletives.
He's been out of the spotlight for a while, but now he's back. He hasn't been on vacation. He hasn't been snoozing. He's been weight-training – a prize-fighter returning for his comeback bout. He's sporting a new nickname and a new coach: ChatGPT by OpenAI.
Now it's starting to get interesting. We're finally getting the answer to "What would happen if Clippy was actually helpful?" 
ChatGPT is a conversational AI platform that allows you to give it a prompt and it will give you a response. It can answer questions, write songs, produce code in any programming language, and can even write you a haiku about green beans:
Green beans, so fresh and bright,

Nature's tender treasure, rife

With flavor and delight.

- ChatGPT
From a business perspective, he can write you a business plan, a cover letter, or a job description from just a brief request. He can even create prompts for his friends, Dall-E and DaVinci, the image producing AI platforms who are poised to bring back the term starving artist. I mentioned that, right? Clippy and his friends are back from the hinterlands to steal your job.
However, for the moment we're safe. As many of you may have noticed, the haiku above is incorrect and not 575 like it's supposed to be. And there lies our temporary salvation: these tools and platforms will need to be honed, given context, and applied correctly.
No doubt that we'll start seeing this technology integrated into many products and platforms that we already use. Microsoft has just invested $10 Billion into OpenAI and purportedly hopes to bring the technology into Word, Excel, and Powerpoint. Microsoft has also talked about how it wants to use the same technology to serve better responses from Bing. It will be interesting to see how Google will respond to stay ahead of Bing.
We'll need to embrace Clippy and his new pals and get used to the idea that everything is going to change, and quickly.
A closing by Clippy:
"Ultimately, the future of AI is in our hands, and it is up to us to shape it in a way that benefits us all. So, as we move forward into 2023 and beyond, let's embrace the opportunities that AI brings, while also being mindful of the challenges it presents, and work towards a future that is inclusive, ethical, and sustainable for all."