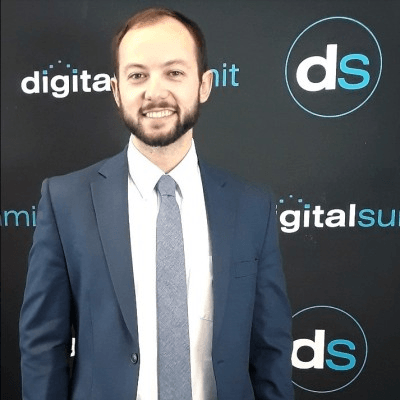 With marketing experience in higher education, B2B technology, healthcare, and retail, Joshua Phillips is looking forward to working with Seismic Digital's diverse roster of clients and expanding our agency's SEO (Search Engine Optimization) services.
"SEO is more than just helping clients understand how people are getting to their website," says Joshua. "It's about helping clients see the full picture and learn about the customer's buying journey. Every SEO tactic we execute keeps the searcher's intent in mind and helps us understand the customer journey."
For Joshua, the pursuit of industry knowledge is never ending. He plans to continue his professional development by earning more SEO and marketing certifications and attending marketing conferences. 
Born and raised in Kansas City, Joshua is a local sports fan through and through. Whether he's going to a Chiefs game, Royals game, or Sporting KC match, he loves to support all his hometown teams. He's even met Travis Kelce, Tyreek Hill, and Patrick Mahomes, all on separate occasions. 
Joshua is a self-identified foodie, and in true KC fashion, he's always down for barbeque.
"Gates has to be my favorite," says Joshua. "It's sentimental for me because I always went there with my dad and older brother growing up."
He won't turn down Q39 or Jack Stack, though. 
In his free time, you can find Joshua refurbishing old furniture, boxing, reading, and hitting all the dog parks in town with his German Shepherd/Pug mix, Nova. (We're not sure how the breeding process works for that, either, and at this point we're too afraid to ask.) He also enjoys riffing on his guitar and banjo.
Joshua's secret talent? He's a master of impersonations ranging from politicians to Ron Swanson. Just ask him to do a Star Wars character – he's been practicing his Yoda and Chewbacca.
Traveling has been a highlight of Joshua's year and he hopes to do more of it in 2023. This year, he attended South by Southwest, visited Las Vegas, saw family in Texas, and kept it weird in Portland.
Some other fun facts about Joshua:
He firmly believes Sterzing's Potato Chips are the best chips in the world. (He's a boxer so don't fight him on this.)
He's fascinated by 3D printing.
He enjoys preparing meals for local families at Harvester's.
His favorite place is Breckenridge, Colorado, because it's beautiful year-round.
The best advice he's ever heard is from Bill Murray: "Life is short, so do what makes you happy."