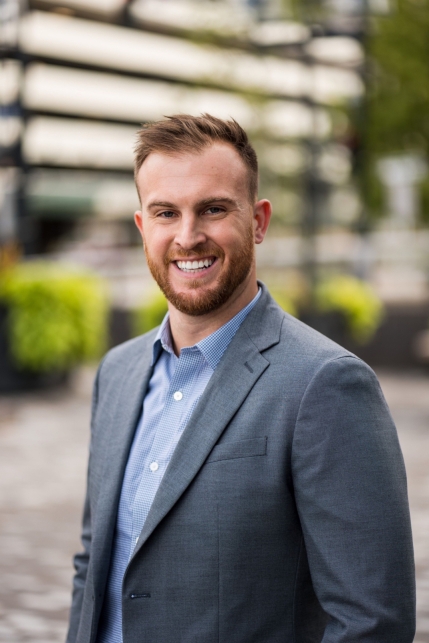 Tyler Cooley has always loved working with people. From leading trainings at a software startup to interacting with clients in an agency environment, Seismic Digital's newest Account Manager enjoys discovering what makes people tick and how their businesses work.
"I'm especially excited about working with DRI DUCK," he shares. "It's an interesting product and I love anything outdoorsy."
Tyler grew up in southern Missouri, so he enjoys exploring the great outdoors by hiking in the Ozarks whenever he visits his family. Family is important to Tyler, which is a big reason he moved to Kansas City after living in Texas for five years.
"I like that I'm in a bigger city but still near my family," says Tyler. "Plus, Kansas City is affordable so I can put my money toward traveling."
His most recent travels were to Palm Springs, CA, and he's already planning a birthday trip to the Dominican Republic next May. For Tyler, birthdays are kind of a big deal. He's always down to plan a party or a trip for friends on their special day.
When he's not catching a flight, you can find Tyler at a music festival. He's been to Austin City Limits and Bonnaroo more than a few times and recently saw The National and Modest Mouse.
"I would love to be musically inclined. It's a cruel joke that I can't play an instrument," he laments. "And I definitely can't sing."
Tyler's earliest memory is seeing an elephant at the zoo, which sparked a lasting love of animals. He even has two of his own: an Australian Shepherd mix named Khaleesi and a Boxer named Zula. They're both dogs, but he hasn't ruled out the possibility of getting an elephant one day.
Some other fun facts about Tyler:
He's into trying craft beers and visiting new breweries.
His favorite family tradition is their annual fall lake trip.
The quote that speaks to him most is, "Don't let them treat you like cornbread. You're a Cinnamon Butter Roll from Texas Roadhouse."
He's terrified of clowns and has no interest in overcoming that fear.
He will eat all the rye chips out of the Gardetto's snack mix and feel no shame.